TOP>AV&Communication Instruments>Audio Instruments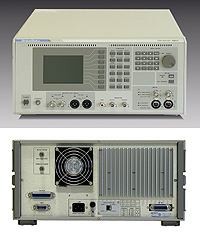 The AM51C Series Audio Analyzer is a multi-function audio analyzer which combines extra-low distortion rate measurement equipment with two input channels and an extra-low frequency oscillator.
The measurement unit includes ten basic measurement functions such as level measurement, S/N measurement and frequency measurement, and ten built-in filters.


If combined with an oscillation unit, these functions enable the AM51C to measure harmonic distortion as low as -120 dB and levels as low as 1 mVrms.
The AM51C is easy to operate through the combination of a liquid-crystal display and soft key setting of parameters. Remote control via GP-IB function and a panel setting memory for 100 sets of parameters is also available.
Features
The measuring input and two channels (A and B) for oscillator output can be individually set to balanced or unbalanced (The 600 Ω terminator can be switched on and off).
IM distortion measurement according to SMPTE method.
Phase difference can be measured in a full scale of 180 degrees with 0.1degrees resolution.
GP-IB interface is standard.

---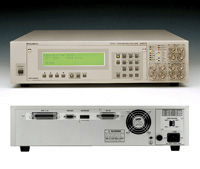 The AM57A is a multi-function audio analyzer designed for automated test systems.
Measurement functions include level, relative level, distortion, high-harmonic distortion, frequency, SINAD, DC. An internal signal switcher allows tests to be performed on two channels. If optional measurement inputs are added, up to 4 channels can be tested.


Adding optional measurement inputs makes parallel tests on two channels possible in the level test. Up to two channels can be optionally added to the signal generation unit as option. The front panel controller is optional because it is not really necessary during automatic measurement. If the front panel controller is not installed or the display shows "OFF", the measurement time is shorter, and no time is wasted in the process of calculating the display. The AM57A is equipped with a GP-IB, which is necessary for building an automation line for audio products. Sequence measurement control is also possible using the RS232C and parallel interfaces. The AM57A is equipped with functions which support a range of automatic measurement systems.
Features
Options such as measurement input channels, a built-in OSC, and a panel controller can be selected to build an optimum automation system which conforms to any automatic measurement systems the user may have.
Capable of measuring total distortion factors and THD (total harmonic distortion).
Equipped with various filters for measurement. Optional filters can be added.
Equipped with a "GO"or"NG" judgment function.
Equipped with memory function allowing storage of up to 100 panel settings.
Includes a sequence measurement function which allows items set using the memory function to be carried out in sequence.
RS232C and GP-IB interface are standard.



---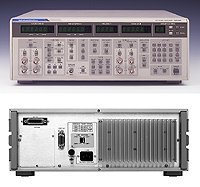 The AM70A is a Two-channel Audio Analyzer designed to measure IRD audio signal output characteristics such as level and distortion. It measures audio equipment characteristics quickly and accurately. The AM70A can measure two channels (each channel is measured and the result displayed independently). Measurement items and filters can be selected easily. It allows high-speed level measurement, making it ideal for audio equipment manufacturing lines. The AM70A supports the building of systems using its GP-IB interface control.
Features
Uses DSP computation to process measurements in a short time.
High-speed measurement is possible. (Level measuring time is less than 100 msec.)
Enabling to analyze the 2nd to 5th harmonics.
IMD measurement is possible.
The memory function that can store 100 ways of panel setting is equipped.
Equipped with a judgment function to check the result of measurement, either "GO" or "NG".
GP-IB interface is standard.
Optional filters can be inserted.